The Watersong Villa Rental | Vacation Villa in Orlando Blog
For a couple of years before deciding to buy our villa in Florida we had been watching the television programme "Escape To The Winter Sun" in which couples were shown various properties in locations around the world where they were thinking of buying a home. Whenever the programme featured Florida we both found ourselves wishing it could be us as we were so impressed by both the houses and the locations which were absolutely amazing. We knew then that having somewhere in Florida that we could enjoy for holidays with our own family and friends as well as renting to others who might want to stay there for their Orlando vacation would be wonderful and a real dream for us.
On 22nd February 2014 we flew out from Manchester for a week in Orlando during which we had arranged to meet with a couple of realtors ( both from Leeds, England coincidentally). We were picked up from our hotel each morning and taken to see a number of different style properties and resorts so that we could get an idea of what was available and where. The first few days were spent exploring the area on our own whilst we stayed at a large timeshare golfing resort. This was fortuitous in itself because after being woken up each morning at 5.30 am by the mowing of the greens we knew that investing in a property in a golfing resort was definitely not for us!
Before we went we were open minded about looking at both new builds as well as older properties. However, once we saw the beautiful new villas we knew then that this was what we really wanted as it seemed even more special and exciting to have a brand new home for which we would be the first owners.
One realtor, Craig, showed us a number of different resorts such as The Shires at West Haven, Solterra Resort and Watersong on which we could choose to have our villa built but the one that stood out for us without any question was Watersong. It is in the perfect location as it is within easy driving distance of the major attractions but just far enough away to be a tranquil oasis of calm from all the craziness that comes from thousands of people visiting Orlando.
From the moment we arrived at Watersong, crossing the bridge over the water and seeing all the beautiful trees we knew we had found somewhere really special. The gated entrance to the resort is very impressive as is the club house with the large heated outdoor pool and spa. When we were taken down to the club house I remember sitting outside enjoying the sun and thinking how wonderful the setting was right next to a large lake and woodland over which I could watch birds flying and beautiful butterflies on the bushes.

Once we had chosen Watersong as the resort for our villa the next step was being driven around on a golf buggy to view some of the available plots, which was fun in itself.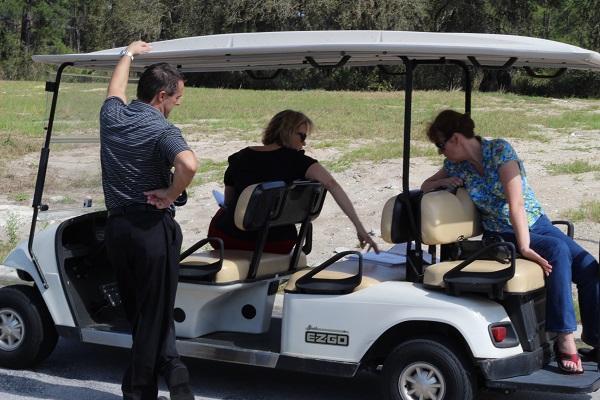 We eventually chose the plot on which our villa now proudly stands because it backs on to woodland which gives our pool and outside dining area the most beautiful scenic view as well as peace and privacy.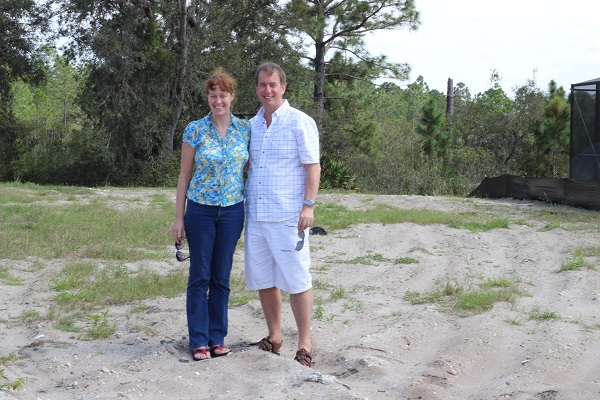 The front of the house looks on to open land as well so it is a particularly good spot as we don't have any houses looking directly into ours which is important for us as it gives far nicer views and open aspect.
Our week of house hunting in Orlando was a great success and one that finished with us signing many papers and marking our spot on the resort map of where our villa would be built.
We returned to our home and work in the UK absolutely buzzing with excitement having committed to buying a house in Florida, the construction of which would soon begin. Not just a house, but a holiday villa with six bedrooms, five bathrooms, a swimming pool with spa and a games room. The dream really had started to become a reality and we couldn't wait for what would be the next stages of this adventure in our lives.
---
COMMENTS
Just having returned from a fabulous 2 week stay at your villa, all I can say is WOW, it's fantastic. The plot and surroundings are great, secluded enough to give lots of privacy. Hugh pool with a beautiful backdrop of trees. Everything you could possibly need for a family holiday, nothing missing in the villa, everything you have in you own home, you will find here. We were a family of 10 staying and we still had masses of room. I will recommend your villa to anyone of my friends who are thinking of a trip to Florida. If we ever return to Florida, this will be my first, and only choice of accommodation. Can't thank you enough for letting us share in your beautiful villa. Heather and Mike
Posted By: Mr and Mrs Miles on 21 Jul, 2017 01:05 PM
---
Have your say
---