A Natural Reserve in Davenport, Florida
Watersong in Florida is entered through a gatehouse which is manned 24 hours a day. It is within easy reach of Orlando and Disney World Resort and is built on a natural reserve, with lakes and a variety of wildlife (check out the beautiful Sand Hill Cranes and also the alligators by the gatehouse). Watersong has a clubhouse which has a large outside pool (heated in the winter months) and separate spa (heated all year), a small gym, a room for playing table tennis, shuffle board and air hockey as well as a large reception area which has two pool tables and table football. There a communal club lounge and also a cyber café with printing facilities. The Clubhouse and gym are open daily from 8.30 am - 5.00pm and within the Clubhouse there is a manned reception desk. The pool at the Clubhouse is open from dawn to dusk. Other activities by the Clubhouse include a children's playground and volley ball court. There are weekly trash collections from each villa with recycling on a Monday and general household trash on a Tuesday. Within our villa we have provided details of what is accepted in the recycling bins in Watersong.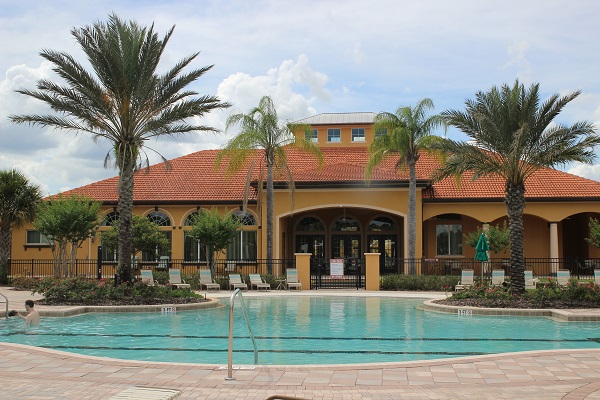 Watersong is easy to get to being on the US92/US14.
Supermarket shopping is also very easy from Watersong. 2019 saw the opening of several new supermarkets nearby, the closest being a brand new Publix which is about 5 minutes drive from the villa itself. The opening hours at the Publix are 7 am until 9pm There is also a Dollar General which is open until 10 pm and is around 7 minutes drive away. Slightly further away there is a new Aldi and another Publix at the crossroads next to the Reunion Resort. This is 12 minutes drive from the villa and also is en route home from the I4 so is very convenient when arriving from Orlando International Airport as well as coming back from the main attractions of Orlando. Aldi is our supermarket of choice in Florida based on value for money and the quality. Not such an extensive choice compared to some of the supermarkets but we are easily able to find the majority of what we need there. Next to Aldi there is a new Wawa Garage. As well as being convenient for fuel Wawa also sells excellent coffee and sandwiches made to go and is a place we often stop at and buy sandwiches to take with us on a day out to a theme park. Other supermarkets in the area are Target up at the large retail development of Posner Park which is 14 minutes drive away and is a pleasure to drive to from Watersong as there is a newly built highway that leads right to it which tends to be very quiet for traffic. There are various Walmarts also in relatively close proximity to the villa, one being at Haines City which is 16 minutes drive away and another being 20 minutes drive away and on the way to Disney.
There are various excellent restaurants nearby such as Manny's in Haines City, (which is a dining experience not to miss) that serves fabulous meals at reasonable prices. One of our favourite local restaurants is Ovation Bistro which is a couple of minutes drive from the nearby Posner Park retail park.
Champion's Gate area has seen a lot of development in the last couple of years and is now the location for several restaurants such as Miller's Ale House, Chillie's and First Watch. For the shoppers you have easy access either going on the I4 or the US92 to get to the designer stores at outlets such as the Mall at Millenia or the Premium Outlets. The advantage of this location is that you have the rural tranquillity of Davenport, where Florida Delight is located, but within 15 minutes you are in the heart of town for restaurants, shops and theme parks.